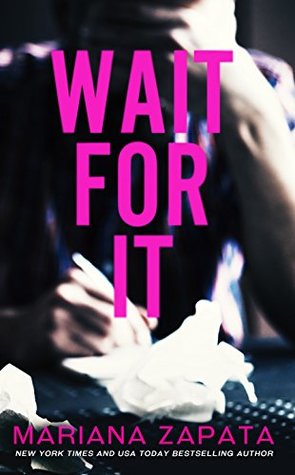 "Real love was gritty. The real kind of love never quit. Someone who loved you would do what's best for you; they'd stand up for you and sacrifice. Someone who loved you would face any inconvenience willingly. You didn't know what love was until someone was willing to give up what they loved most for you."
It's easy reading a Mariana Zapata book. Her writing flows effortlessly and easily transports you into the world she's created. Zapata is amazing at creating characters full of depth and they become almost like a family. I like to call her books comfort reads because every time I open a book of hers, I am immediately rooting for her characters, their HEA, and it's always a comfortable and enjoyable read.
Wait For It was no exception. Diana and Dallas, the h and H in this story, were genuinely good people. Zapata knows how to write characters, flaws and all, that you can't help but to love and support. It's my favorite aspect about her writing. Her characters are real. They're not perfect but they are who they are and they are just trying to be the best despite whatever life throws at them.
"My abuela, God rest her soul, had always told me you get a lot more out of life being nice than being a cabrona."
Diana Casillas really did break my heart. She is the guardian of her two nephews, and since her brother and sister-in-law have passed away, she is in charge of making sure her two nephews grow up into honorable and good people. At 29, and unexpectedly dealing with the death of her brother and being handed two sons, Diana is struggling with the weight of it all. It's tragic but not once did I ever doubt Diana and her ability to fight through it. She's a tough woman, a great sister, a loving aunt and gaurdian, and an amazing friend. It's no wonder she crashed through Dallas's defenses. It's impossible not to like her.
"You deserve the best, Dallas. I hope you find someone who appreciates you someday, if that's what you want. I'm so lucky to have you as my friend."
Dallas was…well he was Dallas. He wasn't an anti-hero or a grumpy old man. He was just a regular guy that minded his own business and was selective about who he let into his life. He honestly did not want someone new in his life at the moment. He was dealing with other things and I couldn't blame him for wanting a break from people for a bit. But after being around Diana, seeing how she genuinely was just a good person who only wanted to be his friend, he slowly let her in.
"…because I know she" – he tipped his head toward me – "only bites when she has to, and I will always take her side. Are we clear on that?"
Here's why Zapata is my favorite author out there right now: her love stories are real. I know, I say that word a lot when talking about a Zapata book, but it's what she does best. Everything is realistic. She doesn't sugar coat things. Falling in love is terrifying, it's difficult, but ultimately it's beautiful and Zapata captures all of this in every little detail. From strangers, to friends, and to more. From glances, to small touches, to laughs, to trusting each other – she covers it all. It's such a beautiful experience reading a Zapata love story.
Wait For It has everything a romance lover could ask for. A heroine who we can all relate to and root for, a hero that will make you swoon, and a small family that defines what love is.
"I'm not rich and I'm not good-looking but I could make you happy. We could make our own patched-up family."
Again, I don't think I can really rate this book because, for me, it's 10 million stars. Her writing is just on another level and her love stories are the ultimate guide on what love truly is. She understands love and I'm so thankful she shares her stories with us.
Also, quick shout out to Louie and Josh. Both were amazing. Josh was incredible and Louie was HILARIOUS.
"Mr. Dallas, don't let her get her pepper spray!…I heard you on the phone with Vanny. You said, you said if she made you mad again you were gonna pepper spray her and her mom and her mom's mom in the-"

"Holy sh-oot, Louie!" My face went red.
And this gem:
"Can I have a hug too?" Just like that, Dallas crouched and scooped Louie up. One of those little arms went around my neck, and I would bet my life the other was around Dallas's.

"This is nice," Louie muttered somewhere close to my ear. I couldn't help it. I laughed…
Amazon Link: Wait For It by Mariana Zapata