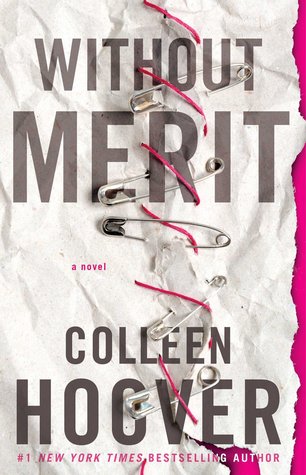 So I tweeted how I felt once I finished this beautiful story and I still don't know how to write a post on this. Any pretty words I say won't do this stunning book justice. This will be the book I recommend forever to everyone.
"We're good at keeping secrets in this family."
Without Merit is a book filled with secrets that slowly reveal themselves throughout the pages. There isn't one big moment full of shock but there's little pieces of revealtions that build up like a snowball. Have you ever experienced something that you didn't see coming but probably should have? We're humans, we miss the hints and signs of life but once we see the bigger picture we finally have a new perspective.
And that's the word I want to focus on. Perspective. We don't see everything the same way. We all have gone through obstacles that have shaped who we are and how we see things.  However, we tend to never try and see from someone else's point of view. We cover our ears and shut our mouths. We don't listen to others' emotions or talk to someone about why they view something different. A lot of us would rather continue viewing things from our perspective only. And this often leads to misunderstandings, resentment, and hurt.
"It's never directly affected me so I've never thought to even look into it."
We experience Without Merit through Merit's point-of-view. She views her family as tragically dysfuntional and she's the only one who will admit it. Her siblings act like nothing is wrong, her father doesn't want to talk about the affair he had, and no one even notices that Merit has dropped out of school.
That's all I want to say about the plot. There's more to everything than meets the eye. Things we thought could never be forgiven turn out to be things that we understand and have compassion for. No one experiences life the same which is why we have to do our best not to judge but to try and understand.
"Peace doesn't come to everyone in the same form."
I really loved that we got this story in Merit's point-of-view only. We realized things as soon as she did. I remember just sitting back thinking "I didn't even try to look at it from that perspective." I called myself out a few times, along with Merit, for not noticing things from the beginning. This book really made me think about how secular I can be sometimes.
"Not every mistake deserves a consequence. Sometimes the only thing it deserves is forgiveness."
There is a character in here that I loved so much. He was a guiding force this family truly needed. And his story will absolutely gut you.
"Look at him and tell me you haven't fallen in love with him"

I sigh. Fallen is an understatement. It was more like a collaspe. Plummeted.
Without Merit touches on many topics that have been shamed into darkness. Colleen Hoover brought to light topics that need to be discussed such as mental health. She captured the struggle of mental illness incredibly well and there wasn't a moment in the book where I wasn't teary eyed.
"Coming down for air."
No one is perfect. Not you and certainly not me. Be kind to yourself and learn to love everything about you.
"Why can't we be a normal family?"

"I don't think such a thing exists, Merit."
5 amazing stars.
Amazon link: Without Merit by Colleen Hoover