In honor of Thanksgiving I've decided to list the books in which I am most thankful for. Books that have impacted my life in beautiful and incredible ways.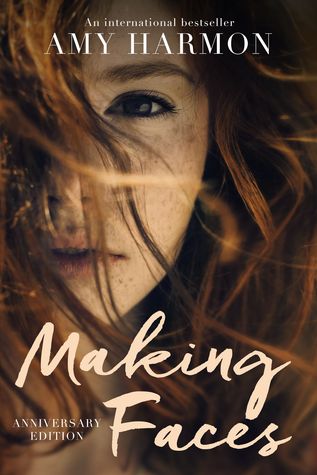 "It's hard to come to terms with the fact that you aren't going to be loved the way you want to be loved."
Making Faces by Amy Harmon is a story that will forever stay with me. We all have insecurities and those insecurites have us questioning everything. For fern, one of the main characters in Making Faces, she asks God why he made her to be ugly. Slowly she realizes what beauty means to her. It doesn't matter what other people think is beautiful, what matters is what you think is beautiful. What is beautiful for you? Is it kindness, love, or joy? Find your beauty, hang on to it, love it, live it, and you'll find peace.
"I hate to say it, but shit really does happen. You just have to get over it. Beat the hell out of it by doing things that make you happy."
The Edge of Never by J.A. Redmerski absolutely slayed me. I read it in one sitting and when I flipped to the last page I had tears streaming down my face. Life is incredibly short so why do we spend most of it trying to convince other people that we're worthy of their appreciation? Why do we spend most of it thinking of things we don't have and things that make us sad? If you want to be happy you have to put yourself first. Do what makes you happy, live your truth and everything will fall into place.
 "Are you all right, Major? Why are you crying?"
The Bronze Horseman by Paullina Simons, the story that has shattered hearts everywhere. Set in WWII, a young girl falls in love with a soldier and everytime you flip the page there's a sense of dread. The moments they steal together are the only light encased in the darkness of a brutal and violent war. How can something so beautiful survive the hate of war? This book will leave you with a broken heart but you will come out of it appreciating every single thing you have. Hug your loved ones close, say a prayer of thank you, and love them with your whole heart.
"It's real, Six. You can't get mad at a real ending. Some of them are ugly. It's the fake happily ever afters that should piss you off."
Hopeless by Colleen Hoover had the biggest plot twist I have ever read and it ripped me to shreds. This book tackles some extremely heavy topics that are difficult to cope with. Sometimes we feel so hopless, like the world is against us, and guess what? Sometimes it might be. But that's life, the hurt and pain is what makes it real, makes us real. Which is why when life is knocking you down you have to get up. Even though you may be hopeless right now, you won't always be. That's the thing about hope, sometimes she's hard to find but you have to fight, you have to look for her and when you find her, hold on to her.
"I wasn't able to be around forever, but I hope that my words can be. Thank you both for giving me the best years of my life."
Death is such a weird thing. It signifies the ending of life but death itself symbolizes life. When a loved one passes, we think of the memories they left behind, the life they left behind. Slammed by Colleen Hoover is a beautiful story about a girl who falls in love with a boy she shouldn't. Slammed is about a girl who's life gets struck by tragedy and how she copes with the aftermath. When a loved one is about to die we need to hold them closer, not hide from the fear of losing them. Family, love, and preserverence are the most important things in life. When life gets hard lean on your family, believe in love, and preservere.
"You can't turn love on and off like a light switch, no matter how hard you try. All you can do is wall it off, one brick at a time, until you've created an impenetrable fortress around your emotions. And once that fortress is built, you camouflage it so well that even you can't see it anymore."
The Sweet Gum Tree by Katherine Allred is about how love hurts. It's not all rainbows and butterflies. Someone can love you with their whole heart but we are all human and humans have a tendancy to hurt. We make mistakes and sometimes those mistakes costs us the things we cherish the most. We close ourselves off when we're scared, when we don't want to be hurt but by closing off ourselves we block everything: even happiness. The Sweet Gum Tree perfectly shows a love that was stifled by mistakes but ultimately, love is about forgivness and truth.
"I'm just saying maybe we're all a little fucked up, and the only difference is the world knows Owen's story, because it happened out in the open. The rest of us…we all just keep our shit private."
Wild Reckless by Ginger Scott is the story of Owen and Kens. Kens witnesses her parent's marriage disolve into a pile of hate while Owen is slowly learning how to deal with the aftermath of his father's suicide. We all have issues we are dealing with and we all have our ways of dealing with those issues. Some of us defeat our pain by smiling through it and others defeat their pain by dwelling in it just for a moment. Life is difficult, so we shouldn't judge others when they are experiencing difficult times.
"Ugly doesn't have a color. It lives among selfishness and hate."
The Hard Count by Ginger Scott is the hopeful read that we all need in todays world. Racism is evil manifested and social class elitism is just as evil. It doesn't matter how much money you have or what the color of your skin is, we were all created by the same God with the same level of love and affection. The blood he gave us runs through all of our veins. Love is the gift he gave us and we should cherish it with every ounce of our being and when confronted with hate, we need to lean into love harder.
*************************************************************************************
And these are some of the books that I am most thankful for! They've all taught me valuable lessons and I truly hope whoever reads this blog post will pick one of these books up.
I'm about to start reading again and I can't wait to start delving into new books and discover new worlds and characters that will impact me just as these listed above did.